C-MOR Video Surveillance Remote Access
The Remote Access of C-MOR gives you the ability to access your C-MOR software or server through a dedicated IP port without installing any software or using a web portal.
Simply enter straight forward your login and password in your web browser and you are able to access directly camera live views and recordings.
There is no need to configure your firewall.
C-MOR Remote Access works as displayed in this diagramme for C-MOR software and server: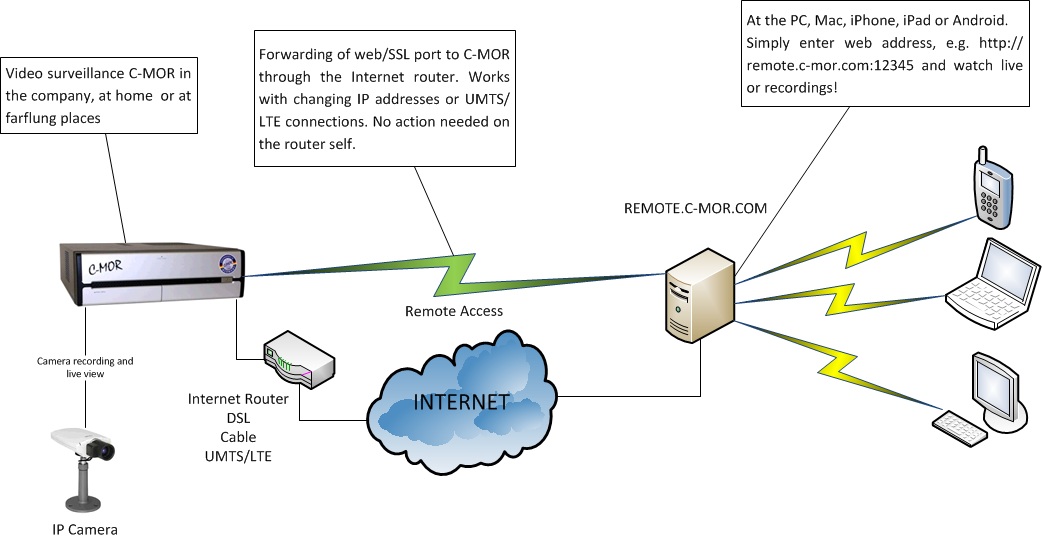 When is the C-MOR Video Surveillance Remote Access needed?
In different circumstances services like Dynamic DNS (DynDNS, NO-IP, etc.) can't be used for the remote access over Internet. Providers sometimes block incoming IP traffic on Internet connections of grant users only private IP addresses which are not allowing the access from outside.
C-MOR offers a good and simple system to access the video surveillance system remotely. This C-MOR remote access is configured by entering 3 data fields, server name, username and password and the remote access is set. It enables everybody worldwide to access videos and live view without the installation of any additional components. Also, it is usually not required to change anything on the Internet access router behind which C-MOR is installed.
This is also extremely helpful, if the administrator of the network must not be introduced into the video surveillance installation.
The advantages of C-MOR Video Surveillance Remote Access
Easy configuration in the C-MOR admin web

Use full web functionality

Secure SSL-Access

World wide access without additional software

iPhone, iPad, Android support

Watch recordings and watch live

Internet provider independent

Works without Dynamic DNS

Supports DSL, cable, satellite, UMTS and LTE Internet connections who block DynDNS

In many cases it works through company firewalls

Easy set up by anybody. No know how required

Works with C-MOR appliances and software